Today I'm liking up with
Home Sweet Ruby
to share my favorite Thanksgiving recipe with y'all!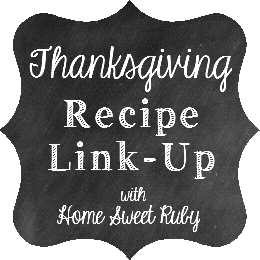 I spend Thanksgiving with Connor's family, and have been doing so every year since 2006. His mom has been so gracious each year to teach me how to cook their traditional recipes and lets me help! They have very traditional food: big turkey, canned cranberry relish, homemade cranberry confit, sausage stuffing, sauerkraut & apple dressing, roasted brussel sprouts...you get the idea.
They also have the most fabulous tradition of doing a champagne tasting before our big meal. Connor's dad wraps up 4 bottles and pulls three out. We have to rate each one on various factors (bubbles, color, sip, aftertaste, etc) and then we all try and guess which one is which. We also play a few rounds of Cranium or something along those lines. It always gets a little blurry...Then we sit down and eat! So, you can tell that I LOVE spending Thanksgiving with his family. We always have a wonderful time!
Here's a really fabulous old-school recipe that his mom asked me to bring one year. This Cranberry, Onion, & Raisin Confit was from an old Bon Appetit (like late 1980's) that she had a copy of. I was definitely skeptical the first time I made it, but was totally blown away by the result. I always double the batch, since his parents host a Leftovers Dinner the day after Thanksgiving for all of their friends, and it's always nice having extra to spread on your turkey. Enjoy!
Cranberry, Onion & Raisin Confit
Yield: 4 Cups
2/3 C Golden raisins
2/3 C Dark raisins
2 lb frozen pearl onions
6 T Unsalted butter
1/2 C Sugar
3/4 C White wine vinegar
1 1/2 C Dry white wine
3 Garlic cloves, minced
1/2 t Fresh thyme, minced
1 t Salt, or to taste
1 2/3 C Fresh or Frozen Cranberries
In a small bowl let the raisins soak in 2 cups hot water for 10 minutes. SAVE THE LIQUID
In a large heavy saucepan cook the onions in the butter over moderate heat, stirring, until they are coated well with the butter, add the sugar and 1 Tablespoon of the vinegar, and cook the mixture, stirring, until the sugar is dissolved and turns a golden caramel. Add the remaining 11 Tablespoons vinegar and the wine and boil the mixture for 2 minutes.
Add the raisins with the soaking liquid, the garlic, the thyme, the salt, and 1 cup water, or enough to just cover the solids, bring the liquid to a boil, and simmer the onions covered, for 1 hour, or until they are tender.
Add the cranberries and boil the mixture, uncovered, stirring occasionally, for 15 to 30 minutes or until the liquid is reduced and the confit is thickened. Season the confit with salt, transfer it to a bowl, and let it cool.
The confit may be made up to 3 days in advance and kept covered and chilled. Reheat the confit in a saucepan over low heat, stirring, until the butter is just melted. Serve the confit at room temperature.
xoxo,