I'm linking up with Faith today for her 6th annual Christmas Card Carousel! How fun!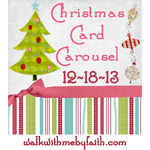 I wrote a post on how to make your own holiday cards a while back, so click on over there if you want to see!
What do y'all think?
Basically, I designed them in PicMonkey and got them printed through UPrinting. I wanted a black & white photo, and loved how gorgeous the sparklers & my sparkly dress looked in B+W. On the back, I could have printed more pictures, but I always love the cards that have the year-in-review on the back. We took a LOT of trips this year (this isn't even all of them!) and did a lot of fun things, besides getting married of course. This probably took me an hour to get it all formatted and to my liking. The cards came in about a week (awesome) and I think they turned out pretty darn good, considering it was my first rodeo.
Thanks to Faith for having this link-up! I can't wait to see everyone else's cards!!
xoxo,